Secure your Dutch home remotely with virtual viewings
Biggest selection of properties

Sign contract without traveling to the Netherlands

Help from the rentals expert, whenever you need
Three Simple Steps
From browsing to moving in to your dream home in the Netherlands
step 1
Set your filters
Filter thousands of properties and receive only ones that match your preferences.
Biggest selection of properties

Pre-market offers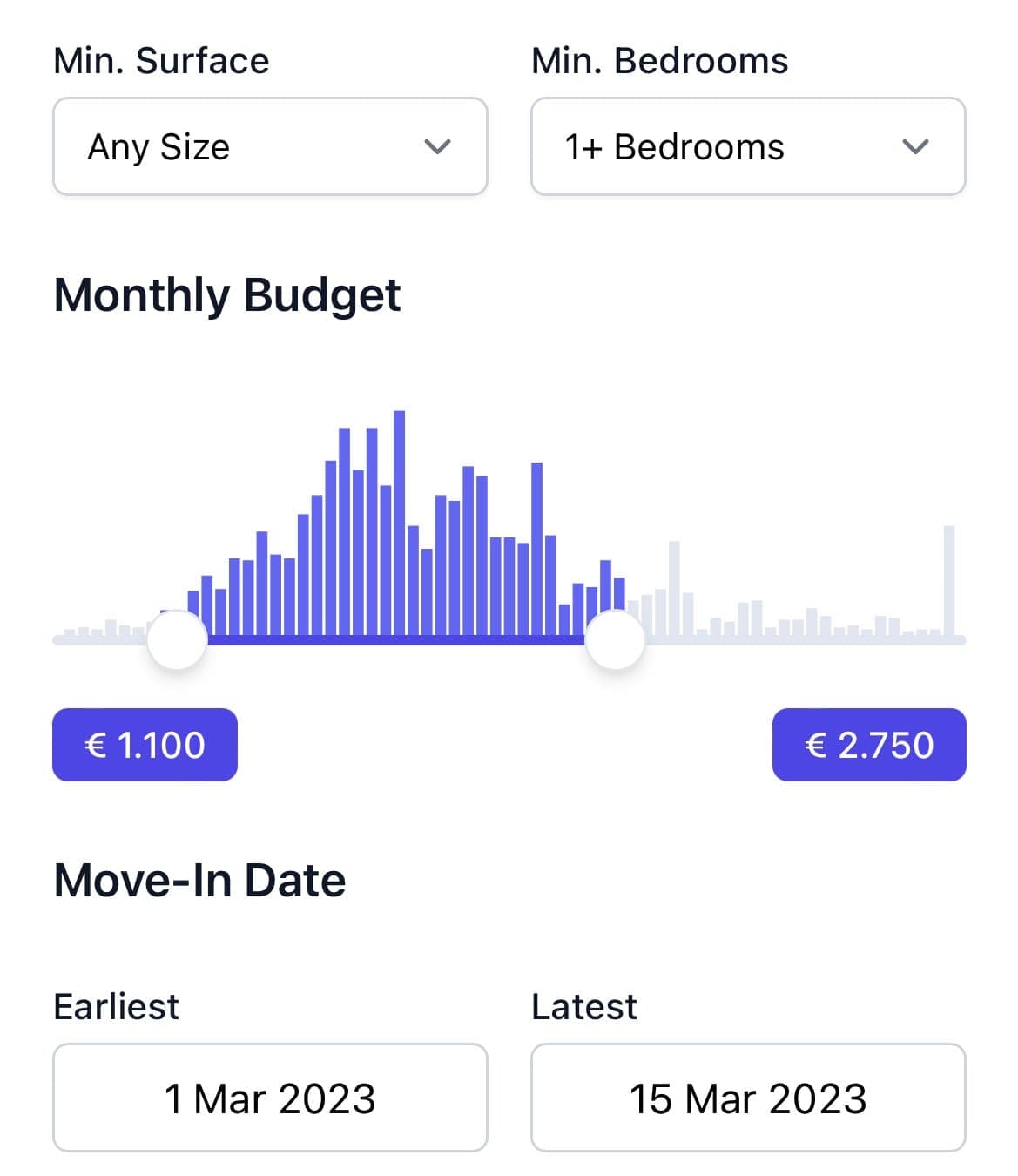 Trusted by 100s
Since 2021 we delivered an exceptional service to 850+ customers and helped them with all challenges of relocation.
Service is an innovative fusion of bots (monitoring rental offers), personalised filters, well organised processes and a very friendly team that you can trust will represent your interests well.

We were able to see new properties via the website and choosing the one we liked for the viewing, the whole process is well thought and easy to use.

We had a great experience with Relocify not once but twice. Even in such challenging times of finding an apartment they make the whole process a lot easier and stress free.

I was new in town but Gulce managed to get for me a really cozy place, fully furnished and in the perfect location (10' biking to the office, 10' biking to the city centre).

I am so happy I went through their service. It definitely helps newcomers in the country to get settled and feel at home.

I would recommend Relocify to anyone looking to move to Amsterdam. The whole process was made so easy, we can't believe that we're here.
Biggest Selection
Properties from all housing websites and agencies/landlords with wealth of data on each offer.
Powerful Filters

Easiest way to filter through thousands of properties.

Anywhere in the Netherlands

With the vast network of agents and partners, we provide our services anywhere in the Netherlands.

Utility Calculator

Personalised cost estimates for gas, water, electricity & internet on each property listing.

Area Score & Renting Odds

Area ratings on safety, quality, and services, plus data-driven odds for securing properties.

Instant Notifications

Real-time mobile or email alerts for the best housing deals.
Virtual & In-Person
Cut costs on temp housing with virtual tours, while keeping the in-person option open.
Comprehensive virtual tours

Experience the property, stairs, and building like you are there—with crystal-clear, comprehensive video tours and soon also in 3D.

All important details

From contract terms to energy efficiency and window soundproofing—after each tour

Sign contract online

We will send an offer, negotiate terms, explain all important aspects of the rental agreement and send to sign it online via DocuSign.

Also in-person

Already in the Netherlands, we'll accompany for an on-site property tour and show it in-person.
Exceptional service
Experienced estate agents, top-tier customer service, and intuitive app for a smooth move.
iOS, Android and Web Apps

For a smooth experience on phone or in the browser, we offer apps to manage the whole process independently, be always up to date and to provide the highest quality service to any customer, anytime.

Service you will love

Read our reviews to see why our customers love us and why we keep our customers always delighted.

"Service is an innovative fusion of bots (monitoring rental offers), personalised filters, well organised processes and a very friendly team that you can trust will represent your interests well."

Dr. Andreas Györy

- via Google Reviews

Always available

We reply within 5 minutes in the customer chat or on the property discussion.
Additional Perks
From our extensive knowledge base to schooling assistance, everything that you might need.
Knowledge Base

Most comprehensive and always up to date knowledge base where we cover everything from opening the bank account to cultural integration.

Schooling Advice

Our schooling partners can help make one of the most important decisions - in which language and where young ones should study.

Connecting Utilities

Ready contracts for gas/water/electricity and internet received by email to sign them online after a 10-15 minute consultation call. As simple as that.

Check-in & Check-out

To protect the deposit and to make sure you don't get overcharged for property damages, we do inspection during the check-in as well as check-out.

Bank account

Opening a bank account upon arrival is essential, specially for non-EU expats. We will schedule an appointment with a bank and help in opening it without BSN in the first week.

BSN Appointment

In the beginning of the relocation we will schedule a BSN or a combined appointment via the expat center.
Compare us
See why we are the best option for your relocation.
Search time
2-4 weeks
6-8 weeks
Show all features
Pricing
Find the right plan for you
Pay per viewing and save money or go for an all-inclusive package and enjoy the perks.Compare plans →
Pay per viewing
From€34/per viewing
Pay per viewing or select our all-inclusive packages.
Find your home now →
All-inclusive packages
From€790
Unlimited viewings, pre-market offers, priority support and many other perks.
Find your home now →



Ready to start?
Schedule an information call right away or call us directly at
+31 20 299 1958
or email to
support@relocify.nl
.
Free and without obligation

Help with budget and area selection